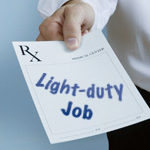 By: Loyd Willaford and Mathias Deeg
In Frazier-White v. Gee, the U.S. Court of Appeals for the Eleventh Circuit held that the Hillsborough County Sheriff's Office did not commit disability discrimination when it refused a disabled Community Service Officer's request for accommodation through indefinite light-duty.
Delores Frazier-White, a Community Service Officer for the Hillsborough County Sherriff's Office in Florida, was assigned to light-duty while recovering from a spinal injury. The light-duty accommodation was limited to 270 days within a two-year period, and when Frazier-White was unable to return to full-duty after the 270 days, she was denied an indefinite extension and terminated without discipline. Frazier-White sued the Sherriff for disability discrimination under the Americans with Disabilities Act and the Florida Civil Rights Act.
Frazier-White argued that the Sherriff's failure to accommodate her through either the extension of light-duty or reassignment to an alternative suitable position constituted disability discrimination.
The Sherriff argued that the light-duty position was clearly temporary, and that it had no duty to create a permanent light-duty position for Frazier-White. Furthermore, even if other positions were available, the Sherriff states Frazier-White never requested reassignment to any specific position or provided the Sherriff with information to help him determine whether another position was suitable to her limitations.
The Court held that the Sherriff did not engage in disability discrimination. Both parties agreed Frazier-White was disabled and not qualified for her job without accommodation at the time of her termination, meaning:
… [t]he only question is thus whether [the Sherriff] discriminated against [Frazier-White] by failing to provide a reasonable accommodation that would have enabled her to perform either her… duties or the essential duties of another position for which she was qualified.
When Frazier-White requested an indefinite extension to her light-duty position, no permanent light-duty positions existed. The Court stated that employers are not required to create new positions to accommodate their employees. Furthermore, though Frazier-White argued that there were vacancies in other positions while she worked light-duty, in order to request assignment to other jobs she had to identify specific positions suitable to her limitations and bring them to the Sherriff's attention.
This case is yet another illustration of the common misconception that employers are under an obligation to create positions for disabled workers.  They are not.  Employers must make reasonable accommodations to help disabled workers do their job.  If the employer has other suitable work available, a reasonable accommodation might include a transfer to that work, but the employee must engage in the interactive process and request such accommodations. The employee also must show they can do the work.
It did not help the officer that she was collecting social security disability claiming she was unable to work at all and that she had not ever applied for any other light duty positions.   The officer's position was that her employer had to continue to offer her permanent light-duty status in her old job.  The Court found that to be unreasonable as a matter of law.
**Visit our Premium Website for more information on Disability Discrimination.**