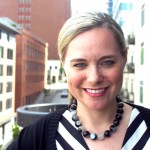 Erica received her B.A. in Political Science from Western Washington University in June 2001. She graduated fromGonzaga Law School in 2005, and participated as a member of Gonzaga's National Trial Team.
After graduation, Erica moved to California. She worked as a Bay Area litigation and employment attorney for several years before returning to Seattle in 2010. Her work experience in California included employment litigation, and public safety and civil rights defense work. When she returned to Seattle, she worked in litigation, where she furthered her focus on employment law before moving to Cline & Casillas in 2014.
Erica is involved in the firm's labor practice, where she handles grievance arbitrations, unfair labor practices, and other Guild representation matters. Erica also continues her employment practice, representing employees in discrimination and other matters.
Erica has established herself as a prominent member of the Bar Association, including her repeated designation by Washington Law and Politics magazine as a "Rising Star." She has published several articles and professional works, including a chapter in the WSAJ Washington Employment Law Deskbook.
Erica enjoys running and physical fitness. Her achievements include running the Maui Marathon in 2001, and the Big Sur International Marathon in 2013. She also enjoys spending time with her husband, Mike and, two children, Elliot, and Henry.