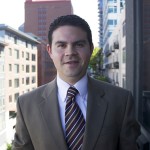 Chris is a 2003 graduate of the Seattle University School of Law where he distinguished himself academically, graduating with the high honors of Magna Cum Laude, reserved for the top students in the class. Chris previously received his B.A. with honors in Political Science from the University of California, Santa Barbara in 2000. After joining Cline and Associates, Chris took a leave of absence in 2006 to attend graduate school at Cornell University in New York.  While there, he earned a Masters of Arts Degree and Ph.D. in Government.
Chris's primary area of practice at Cline & Associates includes negotiating labor contracts and litigating various contract grievances and unfair labor practice charges.  He has also developed an expertise in interest arbitration proceedings.  Throughout his years at Cline & Associates he has served as lead counsel in dozens of contract and interest arbitration grievance hearings as well as unfair labor practice hearings in front of the Public Employment Relations Commission.
Beginning in the 2012-2013 academic year, Chris will join the adjunct faculty at Seattle University School of Law as a part-time professor.  He will be responsible for teaching a course on advanced Constitutional Law.