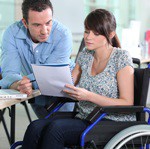 By: Jim Cline
This article is the 52nd in a multiple part series covering the rights your injured and disabled members have and how you, as a union or guild representative, can best assist them.  Over the several weeks and continuing for the next several weeks, we'll be publishing, in various segments, information on how state and federal laws protect your members who are hurt or otherwise unable to work. We'll cover topics including disability discrimination law, the FMLA, job protection rights under the CBA, workers compensation, disability benefits, and the right to bring a civil lawsuit.
The topics we are covering all also going to be addressed in detail in an upcoming book we're publishing: Helping the Injured or Disabled Member: A Guidebook for the Washington Law Enforcement and Fire Union Representative.  It is also our intention over the course of the next year to travel through the state and provide training to public safety union and guild representatives on how best to enforce these rights.  Expect to hear more on that in the months ahead.
The 52nd article in these newsletter series provides a discussion concerning safety regulations covering law enforcement officers. For more information, visit our Premium Website. On the website you'll find an on line version of the Injured or Disabled Member's Guidebook.
In the last article we discussed the safety regulations that protected firefights. In this article we discuss the regulations pertaining to law enforcement and other public safety employees.
Specific standards have not been developed for other public safety employees, including law enforcement officers. That does not mean that there are not safety rules that apply to employers. Instead, the employers are subject to the general safety rules applicable to all occupations including those in Chapters 296-24,296-62, and 296-800 of the Washington Administrative Code.
A recurring issue that arises in law enforcement and corrections work concerns the safety hazards arising from understaffing. L&I has not exercised authority to identify understaffing as a citable safety violation. L&I has investigated and sometimes cited employers for violations concerning failed communication systems.
Nonetheless, despite the lack of specific industry regulations, there is some ability to file safety complaints. We turn to that topic in the next article in this series.
**Visit our Premium Website for more information on Workers Compensation.**