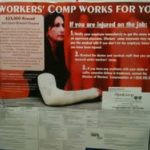 By: Jim Cline and Erica Shelley Nelson
Representing the Injured or Disabled Member
Part 44: Other Forms of Insurance Benefits for the Injured Public Safety Employee
This article is the 44th in a multiple part series covering the rights your injured and disabled members have and how you, as a union or guild representative, can best assist them.  Over the past several weeks and continuing for the next several weeks, we have been and will be publishing, in various segments, information on how state and federal laws protect your members who are hurt or otherwise unable to work. We will cover topics including disability discrimination law, the FMLA, job protection rights under the CBA, workers compensation, disability benefits, and the right to bring a civil lawsuit.
The topics we are covering are also addressed in detail in a book that we published: Helping the Injured or Disabled Member: A Guidebook for the Washington Law Enforcement and Fire Union Representative.  It is also our intention over the course of the next year to travel through the state and provide training to public safety union and guild representatives on how best to enforce these rights.  Expect to hear more on that in the months ahead.
This 44th article in these newsletter series provides a discussion concerning how to apply for Social Security benefits. For more information, visit our Premium Website. There you will find an online version of the Injured or Disabled Member's Guidebook and other information on the laws covering your members.
Many public safety employers will offer group short-and-long-term disability insurance benefits to its employees.  The premium for disability insurance might be entirely employer-paid, or will be shared by the employee and the employer.  Employer-paid plans are often governed by the laws of the Employee Retirement Income Security Act (ERISA).
Eligibility for disability benefits under these disability insurance plans are determined by the language of the insurance contract between the employer and the insurance carrier.  The language defining "disabled" under these insurance contracts varies.  Typical language defines "disability" during the first 24 months as being "unable to perform the material and substantial duties of his or her regular occupation" due to injury or sickness, or some variant of that language.[1]  After 24-months, the definition of "disabled" is usually broadened, and a member may only be eligible for continued disability benefits if he or she is unable to perform, with reasonable continuity, the material and substantial duties of any occupation.
Again, this language varies in each plan, so if the member is covered under a disability insurance plan, the member should request a copy of the insurance plan from the employer or the insurer.  Disability insurers will almost always require medical proof of disability.
A member who is temporarily or permanently disabled, is covered under a short-or-long-term disability insurance plan, applies for private disability benefits, and is subsequently denied benefits should consult with an attorney who specializes in private disability insurance appeals.   Similar to the Social Security regulations, private disability insurance plans or policies also provide appeal rights.  ERISA provides 180-days to appeal an adverse decision on a disability insurance claim.[2]
In the next article in this series, we'll discuss the implications of private disability plan options in the collective bargaining context, specifically whether such plans should be negotiated.
[1] See e.g., Mitchell v. CB Richard Ellis Long Term Disability Plan, 2010 U.S. App. LEXIS 27786 (9th Cir. 2010) (unpublished).
[2] 29 CFR § 2560.503-1.
**Visit our Premium Website for more information on Workers Compensation.**